2023 2nd International Conference on Algorithms, Microchips and Network Applications
(AMNA 2023)


The 2023 2nd International Conference on Algorithms, Microchips and Network Applications (AMNA 2023) was successful held online on January 15th. 2023. The conference was aim to provide an international platform for sharing experiences, expanding professional networks, face-to-face exchange of new ideas and presenting research results. There were 3 keynote speeches and 7 oral speeches being presented. Each one shared views and ideas of the latest reseach.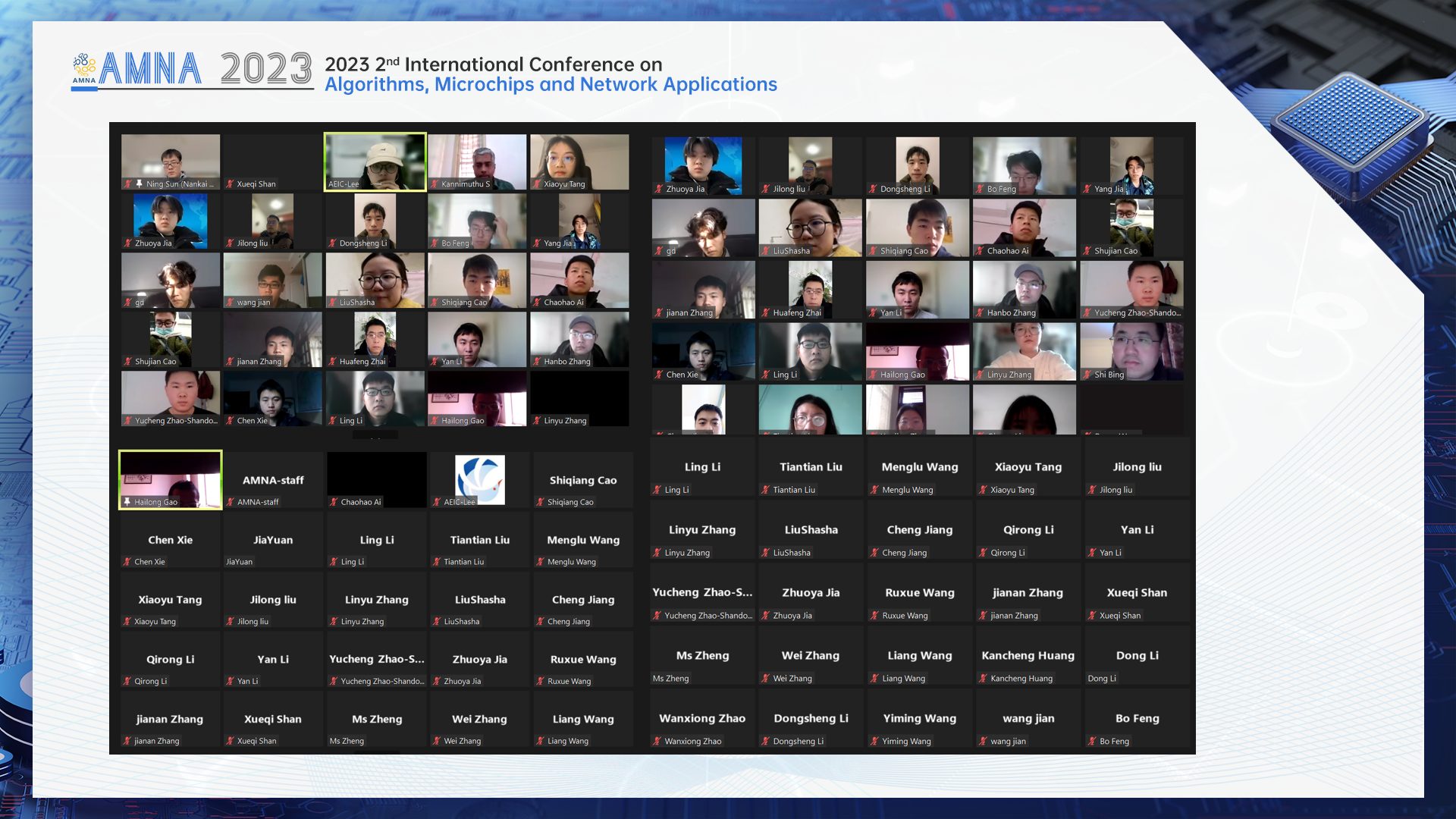 First of all, the host introduce the background of the conference. And extend the warm welcome to all the participants on behalf of the committee of AMNA.
Keynote Speeches
The first keynote speaker is Prof. Ning Sun from Nankai University.
The speech title is: Advanced Control Algorithms for Complicated Underactuated Crane Systems.
After that, Prof. Bing Shi from Wuhan University of Technology addressed a keynote speech
with the title of Task Matching, Dispatching and Pricing in Spatial Crowdsourcing.
Professor Kannimuthu Subramaniyam from Karpagam College of Engineering
gave a speech about:Investigations on Numerical Optimization Algorithms for Machine Learning and Deep Learning.
Oral Speeches
Hailong Gao, Lanzhou Jiaotong University

Title: Segmentation of railway region of interest

based on image recognition

Liang Wang, Beijing Institute of Petrochemical Technology

Title: Interactive Control System Of Variable Force Feedback Robot

Based On Spring Model

Xueqi Shan, Shanghai Institute of Technology

Title: An Improved Feature Point Selection Algorithm

for Point Cloud Data

Qirong Li, Shanghai University

Title: Study on emergency logistics location - route problem under

uncertain demand

Ling Li, Shanghai Dianji University

Title: Chemical Process Fault Classification Based on Improved Marine

Predator Optimization Random Forest

Zhuoya Jia, Zhengzhou University

Title: Human fall detection scheme based on YOLO visual recognition

and embedded ARM architecture

Jin Xu, Shanghai University

Title: Research on joint risk control of dynamic pledge based on pledge rate and early-warning value
Posters Display
This conference provided opportunities for the different areas delegates to exchange new ideas and application experiences face to face, to establish business or research relations and to find global partners for future collaboration.